CONTINUING EDUCATION FOR MINNESOTA CONTRACTORS, REALTORS & BUILDING OFFICIALS AND WISCONSIN CONTRACTORS


YOUR BEST SOURCE WITH MORE COURSES AND INSTRUCTORS!
Whether you are taking courses for credits, or just wanting to learn, you'll find courses on building/energy codes and the latest in building science. Plus, legal, business management, and specialized courses that you won't find anywhere else. All taught by 20 industry experts.
Contractor University courses are approved for Minnesota Contractor credits by the MN Dept. of Labor & Industry. Select Courses also approved for MN Building Officials (MN DOLI), MN Realtors (MN Dept. of Commerce), and Wisconsin Contractors (WI Dept. of Safety & Professional Services). See individual courses for details. All courses available for IACET CEUs. When you complete a course, you can download your CE certificate. We will report your credits.
Minnesota residential building contractors, remodelers, and roofers must complete 14 hours of continuing education every two years including at least one hour of training relating to ENERGY codes or energy conservation measures and at least one hour of BUSINESS management strategies. Contractor University has you covered with a great selection of both types of courses. You can take as many Energy or Business courses as you want, but you must complete at least one hour of each.
WHO SHOULD TAKE THESE COURSES?
Builders • Remodelers • Realtors • Attend for Credits or Just to Learn • Everyone is Welcome to Register!
DETAILS AT A GLANCE:
Live Webinar Courses: 21 Courses Being Offered from Dec. 2020 to Mar. 2021. Due to COVID-19, Live in-Person Classroom Courses Have Been Switched to Live Webinar Courses.
Online Courses: 16 On-Demand Courses Now Available 365 Days A Year 24/7 - More Courses to be added!
MN Residential Pre-License Contractor Online Course: Training for MN Contractor License Exam.
Individual Courses As Low As $18 to $20
Note that only two live one-hour webinar courses in January are still pending approval from DLI (noted on the description for those courses). We expect to receive approval soon. All other live/webinar and online/on-demand courses have received approval including "Energy" and "Business" designations.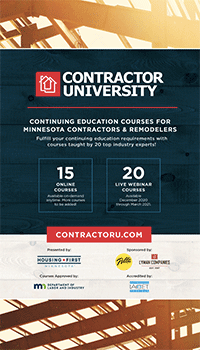 Download Contractor University Courses Brochure
About Contractor University and More, click HERE.
To View Contractor University Policies, click HERE.
Learn More About Housing First Minnesota, click HERE.